Climate Ticket Salzburg Student
Clever savings with the Climate Ticket for students!
The Climate Ticket Salzburg Student is simple, cheap and above all offers significantly greater benefit – and here are the advantages of the new semester ticket at a glance: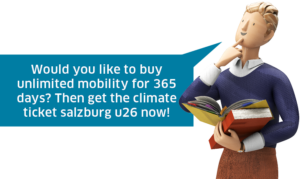 The entire federal state on just one ticket: The Climate Ticket Salzburg is no longer just for one specific route from home to university or to the city of Salzburg; it is a network ticket for the entire federal state of Salzburg.
6 months: The ticket is now also valid during semester breaks and in the summer holidays; valid from 01.09. to 28.02 (winter semester) or from 01.03. to 31.08 (summer semester).
1 ticket per semester costs just 137 euros, i.e. 274 euros per year.
Please note: The Climate Ticket Salzburg Student is not transferable and it entitles you to make as many journeys as you wish within the federal state of Salzburg during the specified period.
Do you have any questions about the Climate Ticket
Salzburg Student
? Take a look at our FAQs, where you will find the answers to your questions!
Passengers with luggage and/or sports equipment: Please find the luggage conditions and potential costs directly from the respective transport company.
Passengers with animals, please click here (contains an excerpts from the fare conditions).
The current version of the fare conditions of Salzburger Verkehrsverbund applies.